Sharp Automotive Upholstery, Inc. was established in 1988 by James and John Sharp. They were joined by their brother, Steve in 1992.

In the 20 years since we started the business, we have fit and installed Interiors and convertible tops on many national award winning cars. We have extensive experience and knowledge on '30's vintage Standard and Custom Bodied Packards. As well as numerous Rolls Royces (1910-57),Duesenbergs, L-29 Cords, 810-12 Cords, '32-33 Chryslers and Auburn Speedsters. Our upholstery experience on Postwar through 70's vintage vehicles include: several '57 Pontiac Bonnevilles,'56 Packard Caribbeans, '56-57 Lincolns, '56 Mercurys, '55-58 Chevrolets and vintage Corvettes. All done to the same award winning standards.

We insist on providing our customers with an authentic interior and convertible top by researching the correct details for that particular car. Through the use of factory photographs when available, photographs of other cars that still retain their original interior or if no information is available we will put forth our best effort to make the interior as period correct as possible.

As a result, We provide our customers with an interior and convertible top with as correct details as possible. Details such as correct type and thickness of padding, correct stitch type, correct welt and windlace size, correct type of binding, and we try to obtain the most correct leather, vinyl, cloth, carpet and top materials for the individual car.

All work is custom fit to your car in our shop including side panels, carpet, top and seats.
We make every attempt to make the seats as comfortable as possible for our customers. We are willing to fit the seats to the customer when possible because many of our customers enjoy touring their cars as well as showing them.

Please visit our picture gallery to see examples of our work and give us a call to discuss your next project


Other services that we can provide for the vehicles that we restore in our shop include: sand blasting and painting of steel seat frames, fabrication of wood seat frames, manufacturing of cloth bagged spring units, adjustment of convertible top frames, minor wiring, fitting and installation of chrome pin beading, and diamond tufted interiors over hair as original (or over foam for comfort).

1527 Lowell St
Elyria, OH 44035
(440) 322-1954
E-mail us at: sharpauto@windstream.net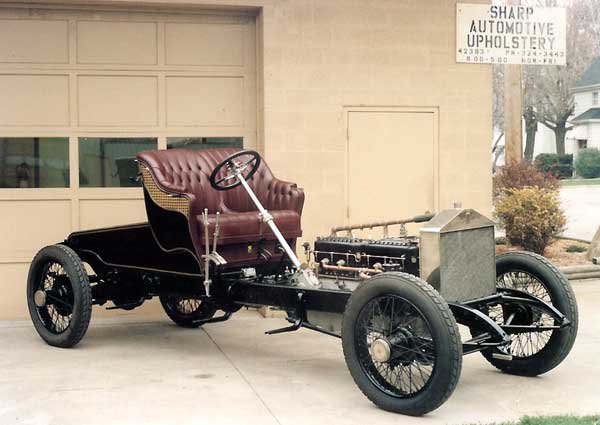 Website designed by Space Goat Design